For the certification under the PassivHaus protocol for sustainable architecture, Blower Door Testing is mandatory to ensure that the building performance falls within the set-out parameters.
The German protocol developed by the PHI (PassivHaus Institut) aims at designing buildings that keep hygrothermal comfort without installing heating or cooling systems, i.e. a passive building. To achieve said purpose, a correct airtightness design is crucial.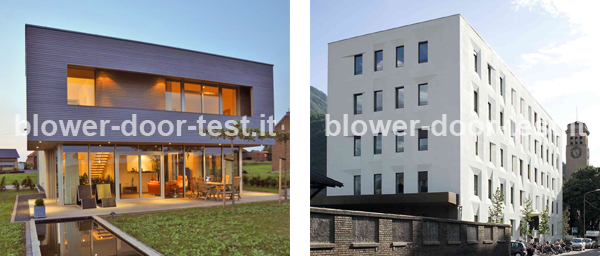 Find out among our references who entrusted us to run the Blower door test for a Passivhaus certification
To assess the correct laying of air tightening systems a PassivHaus Blower Door Test is necessary and an n50 value lower than or equal to 0,6 air exchanges per hour is required at a 50Pa pressure. The test is mandatory once the building has been finished, though it is advisable to also perform it during its renovation or construction.
If you want to do a blower-door-test with our company or you need a free consultation, our experts are available to answer your questions
---
Find out how our technicians perform blower door tests
> How to perform a blower-door-test
Our company performs blower door tests also for other certifications
> Certification protocols