Blower Door Testing is necessary for the environmental certification of buildings according to the BREEAM® (Building Research Establishment Environmental Assessment Method) protocol, developed by the British body BRE.
The protocol analyses and assesses by rating diverse building parameters such as energy consumption, pollution, materials, use of soil, waste, management processes and so on. The final rating shall rank the building as outstanding, excellent, very good, good or pass.
Our company performs blower door tests for BREEAM certification also for large buildings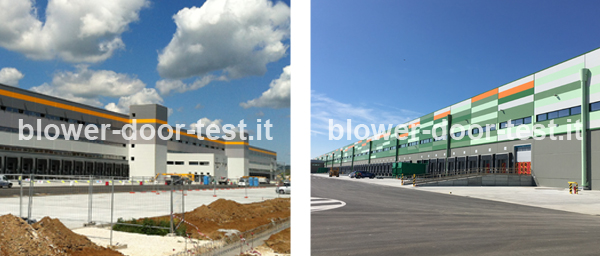 The largest air tightness test in Italy is signed by Blower-Door-Test company and it was performed for BREEAM certification
Why is Blower Door Testing mandatory for BREEAM®?
Among the analyses to be done to obtain the rating, the assessment protocol for the sustainability of the BREEAM® projects requires an airtightness test by Blower Door Testing together with thermography testings.
When is performing the Blower Door BREEAM® test mandatory?
The BREEAM® regulations require the airtightness test both in newly built constructions and in those being renovated (refurbishment and fit-out), both in domestic buildings and in all other types of non-domestic buildings. Airtightness test with Blower Door Testing is mandatory at the end of works, though it is highly recommended even before and during works to ensure the compliance with standards.
The BREEAM® Blower Door Test is performed under ISO 9972:2015 and a minimum 5 m3/m2/h performance at 50Pa pressure rate is required.
If you want to do a blower-door-test with our company and you need a free consultation, our experts are available to answer your questions